Orange City, FL, Tile Services
One of the most natural-looking flooring types is a tiled floor. With options including porcelain, ceramic tiles, and a wide variety of color and style options, you can find something for your budget and needs among the comprehensive range of tiles at Laminate Flooring and More.
We have been in the business of supplying and installing tile floors for many years, and we believe we have the most impressive range of tiles for flooding of any installer. The beauty of tiles lies in the variety, the durability when installed, and the great finish provided by our expert installers.
You're not sure what sort of tiles you want for your floor? That's no problem! Simply get in touch with one of Laminate Flooring and More experts and we'll answer questions you have and help you find the tiles that will be right for you. Tiles are also a great choice for outdoor installations – perhaps on a patio or around a pool – and we have the experience and expertise to do the best job for you at a sensible price.
Have a look through our range of tiled floors right now, and if you want a price simply press the 'Get a Quote' button on the left of the screen, fill in your details, and we'll get back to you as soon as we can.
Why Use Laminate Flooring and More for Your Tiled Floors?
At Laminate Flooring and More, we are very proud of a reputation for professional and top-quality service and products, and the following are some reasons our customers return to us for their flooring needs:
– Only the best quality tiles from top manufacturers are in stock.
– Great choice of tiled floors at a sensible price.
– Many years of experience and satisfied clients.
– Professional tiled floor installation that you will be more than happy with.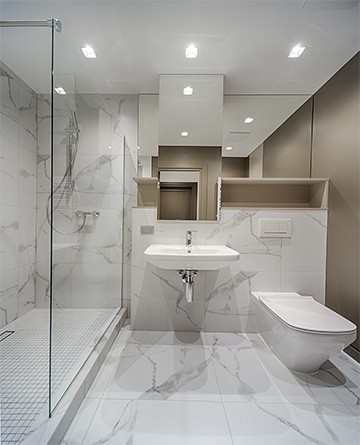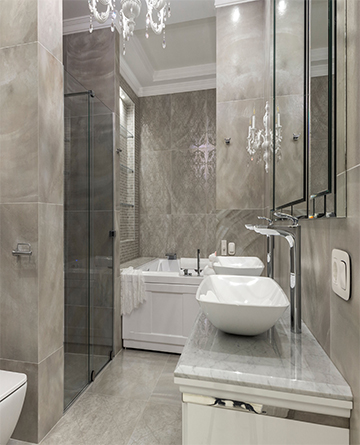 Quality & Truly Waterproof Tile Installation
All of the team at Laminate Flooring and More are passionate and dedicated about all things flooring, so whether you want to know more about our floor tile range or any of our flooring services and solutions get in touch now, and let's talk floors! We offer exceptional flooring installation service and flooring product sales in Orange City, Florida, and in surrounding areas.